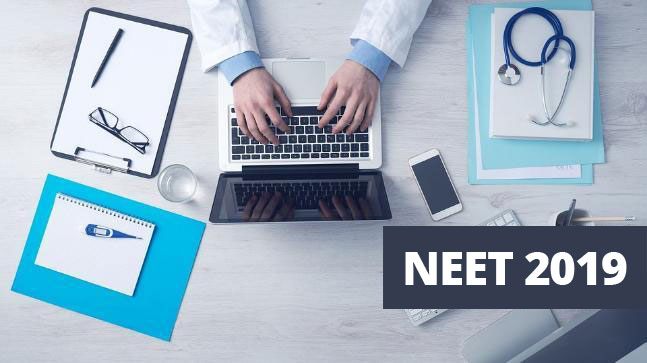 Students and parents have been advised to go through the information bulletin before filling in the application form. For link to the information bulletin released by the NTA,
click here.
Following are some Key points about NEET 2019 Exam:
1. When is the exam?
The NEET exam will be conducted offline on Sunday, May 5, 2019, between 2 pm and 5 pm at a computer-allotted centre. The schedule will remain unaltered even if the date of test is declared a public holiday.
2. Who is eligible to take the exam?
Students who have appeared and are waiting for the results of their Class 12 qualifying examinations can take the test. But they shall not be eligible for admission to the MBBS or BDS if they do not pass the qualifying examination with the required pass percentage of marks at the first round of counselling.
Students who have taken higher/ senior secondary examinations or its equivalent (10+2) after a period of 12 years' study can also appear provided that they have studied Physics, Chemistry, Biology/Biotechnology (including practical tests in these subjects) along with English in the last two years.
Students who have passed 10+2 from Open School or as private candidates and those who have studied Biology/Biotechnology as additional subject shall also eligible to appear for the test. However, their candidature will be subject to the outcome of Special Leave Petitions/Appeals filed by the Medical Council of India.
Students should have completed age of 17 years at the time of admission or will complete that age on or before December 31 of the year of their admission to the 1st year MBBS/BDS course.
The upper age limit for NEET (UG)-2019 is 25 years as on the date of examination with relaxation of 5 years for the candidates belonging to SC/ST/OBC category and persons entitled for reservation under the Rights of Persons with Disabilities Act, 2016.
3. When and where do I fill the application form for the exam?
Candidates need to fill an online application form by 11.50 pm on Friday, November 30. Applications can only be filled online. For link to the application,
click here
.
You must retain four copies of the confirmation page of the online application, proof of fee paid (i.e., bank transaction details supported by confirmation page), at least 5 copies of an identical passport size photograph that was scanned and uploaded on the online application.
For the first time, the NTA has provided for a correction window between between January 14 and January 31, 2019. No corrections shall be allowed under any circumstances after this date.
The fee for students who fall under unreserved and other backward classes (OBC) is Rs 1,400 and the fee for students who fall under SC/ST/PwD/ Transgender is at Rs 750.
The last date for payment of fees is Saturday, December 1, 2018.
4. Where can I take the exam?
Exams can be taken at centres allotted during the time of issuing admit cards. For southern states, the centres are located in:
Andhra Pradesh: Guntur, Kurnool, Nellore, Tirupati, Vijayawada, and Visakhapatnam.
Karnataka: Belgaum/Belgavi, Bengaluru, Devanagere, Dharwad, Gulbarga/Kalaburgi, Hubli, Mangaluru, Mysuru, Udupi.
Kerala: Alappuzha, Angamaly, Ernakulam, Kannur, Kasaragod, Kollam, Kottayam, Kozhikode, Malappuram, Palakkad, Thiruvananthapuram, Thrissur.
Tamil Nadu: Chennai, Coimbatore, Cuddalore, Kanchipuram, Karur, Madurai, Nagercoil, Namakkal, Salem, Thanjavur, Tiruchirappalli, Tirunelveli, Vellore.
Telangana: Hyderabad, Karimnagar, Khammam, Rangareddy, Warangal.
5. What is the syllabus I will be tested on?
The syllabus for the test, which will be a single objective paper in pen-and-paper mode, remains unchanged. The
NEET 2019 Question Papers
for the test shall be based on a Common Syllabus notified by the Medical Council of India and implemented in the year 2013.
6. What is the format of the test?
The NEET paper shall consist of one paper containing 180 multiple-choice objective type questions (four options with single correct answer) from Physics, Chemistry and Biology (Botany & Zoology). This will be a single exam in pen-and-paper mode. The duration of paper would be 3 hours.
7. What is the marking/scoring pattern?
Each question carries four marks. For each correct response, the candidate will get four marks. For each incorrect response, one mark will be deducted from the total score. No deduction from the total score will, however, be made if no response is indicated for a question in the answer sheet. The candidates are advised not to attempt such questions in the answer sheet, if they are not sure of the correct response. More than one answer indicated in a question will be deemed as an incorrect response and will be negatively marked.
8. What documents do I need to take for the exam?
Students need to take a printed copy of their Admit Card downloaded from the NTA website. Admit cards will be issued from April 15, 2019 along with one passport size photograph (same as uploaded on the online application form) for pasting on the specific space in the attendance sheet at centre during NEET (UG) Examination and any one of the authorized photo IDs (must be original, valid and non-expired) – PAN card/Driving License/Voter ID/Passport/Aadhaar Card (with photograph)/Ration Card.
Candidates must bring only the following documents on the day of examination at the test centre. Candidates who do not bring these will not be allowed to sit in the examination, leading to their disqualification. Candidates are not allowed to carry any material except the Admit Card, Passport Size photograph and valid Identity proof inside the Examination Hall.
9. What items are barred from the exam centre?
The candidates are not allowed to carry the following items inside the Examination Centre under any circumstances. The candidates will be subjected to extensive and compulsory frisking before entering the Examination Centre with the help of highly sensitive metal detectors.
These include:
Any stationery item like textual material (printed or written), bits of papers, geometry/pencil box, plastic pouch, calculator, pen, scale, writing pad, pen drives, eraser, calculator, log table, electronic pen/scanner etc.
Any communication device like mobile phone, bluetooth, earphones, microphone, pager, health band etc.
Other items like wallet, goggles, handbags, belt, caps etc.
Any watch/wrist watch, bracelet, camera, ornaments, etc.
Any eatable item opened or packed, water bottle etc.
Any other item which could be used for unfair means, by hiding communication devices like microchip, camera, Bluetooth device etc.
10. What is the dress code?
Candidates who come in cultural/customary dress to the Examination Centre should report at least an hour before the last reporting time i.e,. 12.30 pm so that there is enough time for proper frisking without inconveniencing the candidate. Slippers, sandals with low heels are permitted. Shoes are not permitted.
(from:www.thenewsminute.com)