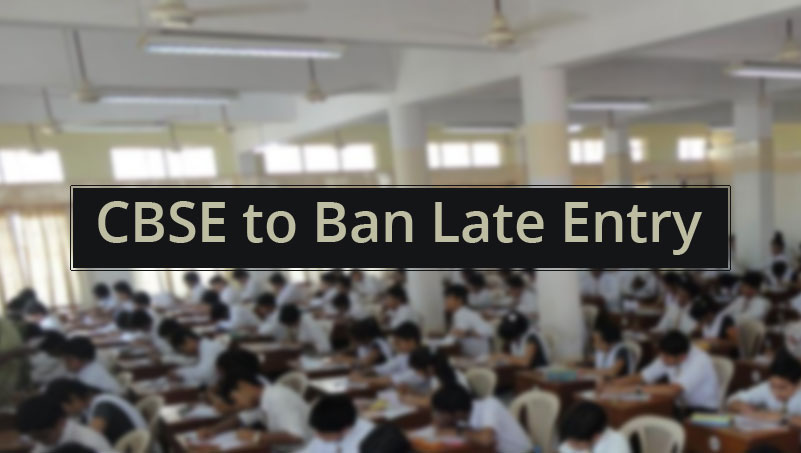 CBSE Board Exam 2019: Cautionary notice for all the students who will appear for the board examinations conducted by Central Board of Secondary Education (CBSE) next year. The board has decided to ban entry into the examination hall of those students who will reach the centre late.
Like in all competitive exams - Joint Entrance Examination (JEE), National Eligibility-cum-Entrance Test (NEET) or Common Admission Test (CAT) where no student is allowed beyond the stipulated timing - 'late entry' will be "completely barred" for the candidates appearing for classes X and XII Board exams which will be conducted by CBSE from the upcoming year 2019. All the candidates will have to be seated by 10.15 am at their respective exam centres, reported the Times of India.
TOI quoted the human resource development (HRD) ministry's source as saying that the step will be taken to make the exams more secured. Earlier, the measure of encrypted question papers was tried out to mar the incidents of paper leaks.
The official entry time as per the current practice begins at 9:30 am. The distribution of question papers starts at 10:15 am while 15 minutes are given for reading the exam paper. Although the exam starts at 10:30 am, students, till March-April 2018 Board exams, were allowed 'late entry' till 11 am and 'emergency entry' till 11.15am, mostly at the discretion of the centre heads. However, from the next year, the rules would not allow students any late entry.
The board had recently conducted exams on a pilot-tested double encrypted question paper during the compartmental exams from July 16 to 25. The prospect of which is now scaling up. As per the report, CBSE is likely to introduce the same in the main exam in March 2019. However, it is expected to be conducted on a lower scale.
Know more Information and updates at misostudy blog..
(from: www.abplive.in)