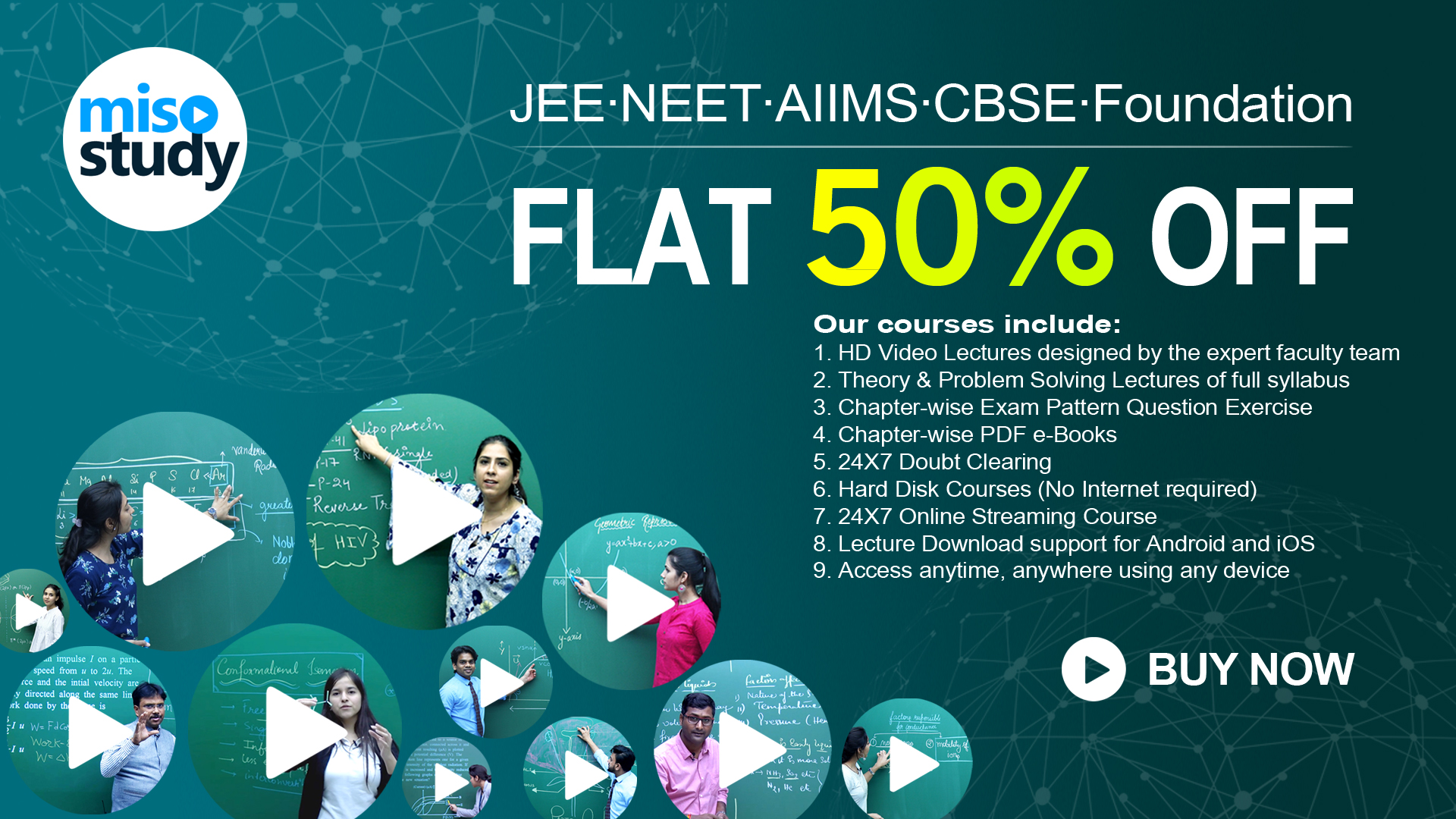 Entrance examinations like JEE, NEET, AIIMS conducted at all India level for facilitating admissions in different colleges across India. These are one of the most challenging entrance examinations. So for the preparation of JEE Main Advanced, NEET Medical & AIIMS In-depth knowledge of the each subject, chapter and topic is required. Every year millions of students appear for these exams. Therefore, it requires a smart, systematic and concerted efforts. For that you need coaching. But it is more important for you to choose the right coaching which matches your study needs. At Misostudy we provide quality education through online video lectures and study material prepared by the top faculties.
Why should you choose Misostudy as your Coaching?
Top Rated and Experienced Faculty: For entrance exam coaching, we have best faculty to provide high-quality study material to students. Our experienced teachers have prepared online video lectures to help students. By watching these videos students can understand the most complex topics in a very simple & easy way. These subject experts have years of experience along with in-depth knowledge of their respective subjects. Most of our faculty are IITians, NITians and Doctors having decade of experience.
Yearlong & Complete Courses: Syllabus for the entrance exams is very vast. So covering the entire syllabus for this exam is very difficult. Therefore lot of students start early for the preparation to make sure no topic leaves uncovered. Misostudy offers 1 Year & 2 Year online coaching courses for JEE Main Advanced, NEET Medical & AIIMS preparation. They are well-designed and cost-effective yearlong courses. Study material and videos are created in a very student-friendly manner. It covers every topic and concept in detail. These video lectures are available on Hard Disk & SD Card as well. And you can also watch it online. For these videos and study material we have discount offer. Now we are providing Flat 50% discount on all courses.
Class-wise & Subject-wise Courses: During Coaching a student might have to suffer if he is unable to grasp the concepts of a particular Class or Subject. In coaching institutes there is no possibility to repeat a topic for a single student. We solve this student's problem. Misostudy provides Class wise & Subject wise courses for the preparation of entrance exams. If you are having a hard time understanding any concepts just choose the course and get started with the online video lectures. It's very simple.
Doubt clearing panel: Misostudy provide doubt clearing panel with the course to the students. In which student can post doubt and get the reply from the expert faculty within hours. Our courses are designed in such a way that student doubts are also cleared with study of video lectures, but in case if student gets doubt, can post on our website panel.
Chapter-wise Exam Pattern Question Exercise & PDF e-Books: Misostudy course video lectures include exam pattern exercise question with every chapter, which helps students to revise the concepts and practice questions based on exams. Also student gets class notes in the form of pdf with every chapter.
So start your journey with Misostudy. We are always with you to help in any situation. For other details go through our Website www.misostudy.com. And also subscribe our YouTube channel and like Facebook page. Contact us at 8929803804 or email at support@misostudy.com