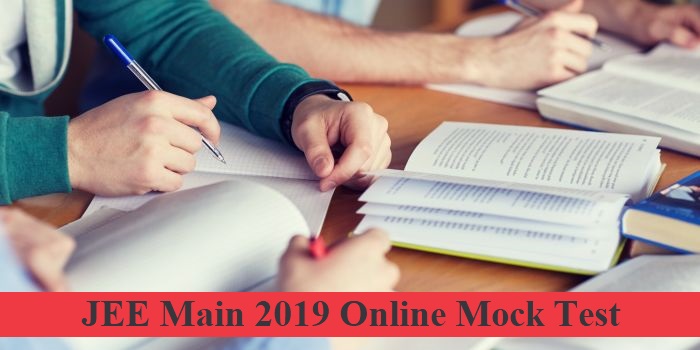 National Testing Agency (NTA) has released the JEE Main 2019 online mock test for candidates of both Paper I and Paper II. The candidates appearing for JEE Main 2019 can take the tests on the official website of NTA. The candidates would require to log in with their registered credentials. Joint Entrance Examination (JEE) MAIN will be conducted by the NTA from 2019 onwards. This Examination was being conducted by the Central Board of Secondary Education (CBSE) till 2018. The online registrations for
JEE Main 2019 April exam
will commence from February 8, 2019, till March 7, 2019.
Here is how you can download the JEE Main 2019 mock test:
1. Log on to the official website
www.nta.ac.in
2. Click on the "Mock Test" link given at the top of the homepage
3. Fill in your credentials and agree to instructions
4. Take the JEE Main Mock Test 2019

JEE Main is applicable for admission to NITs, IIITs and CFTIs participating though Central Seat Allocation Board subject to the condition that the candidate should have secured at least 75% marks in the 12th class examination, or be in the top 20 percentile in the 12th class examination conducted by the respective Boards. For SC/ST candidates the qualifying marks would be 65% in the 12th class examination.
The total duration of JEE Main Paper I and Paper II will be 180 minutes as prescribed by NTA. JEE Main paper II is for Mathematics, Aptitude Test and Drawing. The drawing test will be conducted separately and will not be a part of the online mock test.
National Testing Agency (NTA) has been established as a premier, specialist, autonomous and self-sustained testing organization to conduct entrance examinations for admission/fellowship in higher educational institutions. To assess competence of candidates for admissions and recruitment has always been a challenge in terms of matching with research based international standards, efficiency, transparency and error free delivery. The National Testing Agency is entrusted to address all such issues using best in every field, from test preparation, to test delivery and to test marking.
(from:www.dnaindia.com)