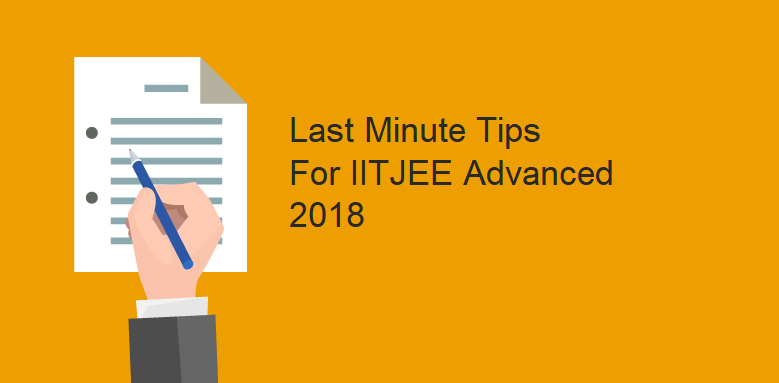 The IIT-JEE Advanced is just a few days away! There must be excitement as well as nervousness playing inside the hearts of all candidates who have applied for JEE Advanced.
The IIT aspirants, who will be attempting the national level entrance
examination on May 20, 2018
for BTech admissions are expected to be concentrating on their studies and focusing on completion and revision of the syllabus.
Since the examination is being held in online mode for the first time, the officials have released mock tests for the applicants to practice from.
Last minute tips
1 - Starting with knowing the JEE Advanced exam pattern to syllabus, candidates must plan such that equal time should be given to revision and mock tests.
2 - Along with the studies, it is important to plan short breaks in between for refreshment. Create a plan and stick to it for a proper preparation strategy.
3 - Concept-wise study is the best – In last few days, it is a better decision for candidates to study concept wise. Since analytical questions are usually asked in JEE Advanced exam, a good practice would be to study concept-wise.
4 - Use your Strengths – It is very important to identifying their strong areas, candidates should plan their study sessions in such a way that more attention is provided to these topics. By strengthening these topics, candidates will be able to score more in the examination.
5 - Attempt Mock Tests and Sample Papers – One of the best preparation strategies is attempting mock tests and
JEE advanced sample papers
.
6 - Since the exam is being held online, IIT Kanpur has also released mock test for candidates to practice. It is an important exercise to check mistakes made after solving the mock test and sample papers and to revise them.
7 - Be sure to clear your doubts – In case of any doubts, the best solution is to clear if off. Candidates are advised to talk about their doubts with their teachers, coaching institute experts.
8 - Steer clear of new books and chapters - During the few days of preparation the candidates have to stop studying new concepts and books. Focus on revising and strengthening whatever has been studied from the JEE Advanced Syllabus till now.
Create Notes and Flash Cards – The best answer for quick revisions anytime anywhere is flash cards. Candidates should note down keywords linked to the various concepts and topics which will be helpful in revision. Flash cards and notes can also be used when candidates are having a hard time remembering certain chapters and topics.
Make sure to take healthy breaks – Along with the studies, it is equally important to take short breaks in between. Healthy food should be eaten as they should not fall sick during this period.
What after JEE Advanced?
The official JEE Advanced answer key will be released just nine days after the conclusion of the examination i.e., May 29 and the JEE Advanced result will be declared on June 10.
(from: thehansindia.com)