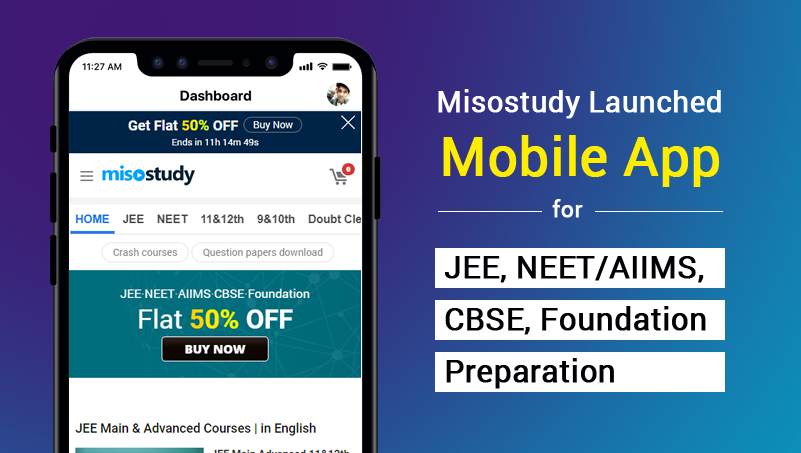 Check out given below points to know how it will help in your JEE, NEET/AIIMS, CBSE preparation.
•
Easy to login and user-friendly interface:
With help of Misostudy app student will be free from lengthy signup process, for login just enter your username and password or through Gmail. After login student can easily browse the course, fill their details on profile page.
•
Best online coaching by expert faculty team:
Our online courses are perfectly prepared by top expert faculties, with one click you can check and find our courses for JEE Main & Advanced, NEET Medical, AIIMS, CBSE/Board Exams/School Exams for class 9 to 12th.
•
Find all latest exam news and offers:
To make sure students do not miss important updates and exam notices, they can simply check our news section to stay informed. Students will also get to see the latest exciting offers which come at regular intervals through the banners at home-page in the app.
•
Buy courses within seconds:
Misostudy Mobile app offers
JEE, NEET/AIIMS, CBSE, Foundation
courses under one roof and buy with three easy steps. You can choose whichever course works best for you take a demo and proceed with the safe payment options. The courses are available at a very nominal price. Check out the entire course list in the app!
• Free sample papers, previous question papers, ebooks: Misostudy mobile app provides sample papers, previous years question papers, ebooks for students performance evaluation. Here students can download free sample papers, previous years question papers and practice as much as possible to check their performance regularly.
•
Clear your every doubts:
If you have any doubts related any topics you can post your question on our
doubt clearing page
available at our app after posting our faculty team will reply with answer within 24hr.
Misostudy mobile app aims to help students study anytime, anywhere & provides freedom to choose what they wish to study. We try to provide easy and effective way of learning with very affordable prices so that every aspirants of JEE, NEET/AIIMS, CBSE, Foundation can fulfil their dreams to become engineer and doctor.